Sunday: Jan 9
We went to church
Made my children wear the clothes which were Christmas gifts to them.
I make it a habit to wear whatever that is new to church first so that it'll be blessed.





Monday: Jan 10


unearthed a cross-stitch design - Autumn
which awaits framing





Tuesday: Jan 11


Leon came along at work
and since I wasn't able to work well,
I took photos instead of
the Happy to Free card
(an all occasion, advocacy card)





Wednesday: Jan 12


The Yellow-Vented bulbul
a frequent visitor in our frontyard





Thursday: Jan 13


New Stuff
my entry to this week's Mommy Moments





Friday: Jan 14


Rice Puffs
my dad's favorite, now Leon's too!





Saturday: Jan 15


my Cherry Blossoms table top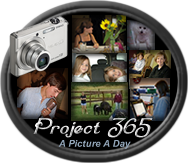 looking forward to week 3 ;)