Can't seem to find the right words to describe how I feel about my children...every mom I guess goes through this state every once in a while...happy, sad, proud, excited...more adjective please...

Maia seems to grow fast, I still can remember vividly the day I gave birth to her and exactly this day, she turned 9 months...time really flies fast! Here she is just a few minutes before going to church this Sunday.


Same with Leon, he's gone to be such a big boy now. In a few month, he'll start pre-school. And he now knows what he wants. Like just with this picture, he insists in taking a photo of him with Ronald...he love's the fried chicken over at McDonalds and was sad when the crew told us that there were no more chicken available when we ordered one for him.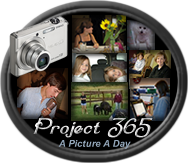 =====================
I am participating in the 2011 Mommytography 365 Project! For this year long project I will be posting an image a day, to get me out shooting, using my camera and learning new things with it daily. Anyone interested in photography can join, no need to be a Mommytographer. We have teens to adults, male and female, as well as people from all over the world. Come join the fun!
=====================