Having a child is such a wonderful experience and being gifted with a son and a daughter is another all-together another remarkable experience.

My eldest is a boy, clothing him was so easy. He settle for the usual romper which was really cute on him because he was such a chubby baby.

I now have a baby girl. Initially, when I was still pregnant with Maia, I settled for another baby boy so that Leon's baby clothes won't go to waste. But then when Maia came and when I started clothing her with girl's apparel, I became more enthusiastic!

Clothing a baby girl or a girl is more fun because there's more choices than boy's apparels.

Here's just one of her shoes. So tiny and cute and so ladylike. Maia's such a doll when she's wearing this pair.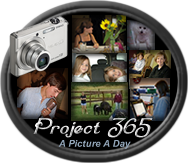 I am participating in the 2011 Mommytography 365 Project! For this year long project I will be posting an image a day, to get me out shooting, using my camera and learning new things with it daily. Anyone interested in photography can join, no need to be a Mommytographer. We have teens to adults, male and female, as well as people from all over the world. Come join the fun!